Drake Painting & Wallpapering Company was established in 1988 in Palatine, Illinois. It has expanded over the years to four offices in Lake Zurich, Buffalo Grove, Deerfield, and we service all of Chicagoland. The founder Dan Malenfant worked his way through the University of Michigan as a painter and saw a distinct need for a professionally run decorating Company. Joe Busher joined Drake Painting in the early 1990's with a similar vision of quality and professionalism.
Drake Painting uses the same skilled craftsmen year round. They are a trusted group and customers will often have their work done while on vacation. Businesses routinely have us conduct work at nights and weekends where trusted personnel are essential. We feel our quality of work exceeds that of our competition. While running a smooth operating business has many challenges, how a company handles problems is often more of an indicator of its integrity.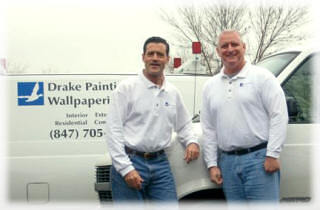 If there are ever any touch ups after a job is complete the customer in question goes to the top of the list and not on a back burner. We value long term relationships and still work for many of our first customers. Drake Painting is a fully insured Company, we carry General Liability insurance, Workmen's Compensation insurance, Automotive insurance, and an Umbrella policy. Drake Painting has always prided itself on promptly returning calls and performing thorough estimates. We occasionally find homeowners or business managers using our estimates as a "blue print" to ensure that other quotes they receive plan on the appropriate and complete preparation and paints. Drake Painting is sure to explain and follow up on any questions customers may have. Our prices are always reasonable compared to the competition and we usually will end up as the middle price if a customer receives multiple quotes.