Deck Staining Service located in Mundelein. Serving Lake, McHenry, Cook, Dupage, Kane County and beyond!
When you're ready to create the stunning outdoor space of your dreams, Drake Painting is here to help. Our deck staining and sealing services in Mundelein, Chicago and all Chicago suburbs solve all your deck woes. Protect your stunning new deck from the elements or restore an aged deck and leave it looking brand new. With over three decades of experience, we know deck restoration inside and out. No matter what state of disrepair your deck may be in, our professionals are ready to tackle your job.

It's no secret the weather in Illinois can be unpredictable and harsh. Heat, snow, rain and wind can cause damage and premature aging to the exterior of your property, including the deck. Trying to DIY deck sealing is an enormous job that, if done improperly, can damage your deck instead of protecting it, making it more costly to fix in the future. Drake Painting gets the job done right the first time so you can get back to enjoying your outdoor space quickly. We'll take your project from consultation to flawless execution without the stress and mess of doing it yourself.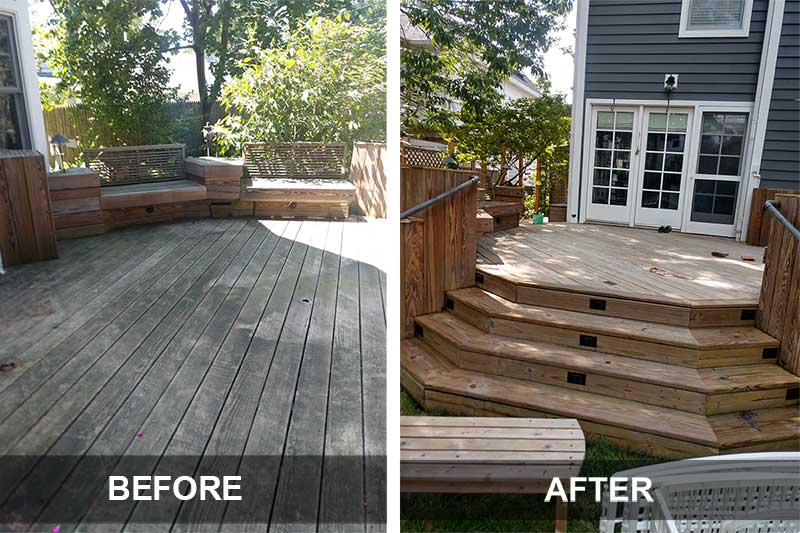 Our deck staining and sealing services include a free, on-site consultation and quote. Once you schedule the project, we thoroughly prep the area for sealing by cleaning the deck and power washing to remove mildew, dirt and stains. We will also sand any loose or raised areas to create a smooth foundation. After the area is ready, we apply a premium deck sealant to weatherproof your outdoor space. During the final walkthrough, you'll come with us to inspect the work and ensure your complete satisfaction with the results.
Are you ready to protect your deck from the elements? Drake Painting is proud to offer deck staining and sealing services in Mundelein and beyond. Reach out to us today to schedule your free consultation.